Irish Wolfhounds of the Past
1974 -1981, Pequest Knoll Daneen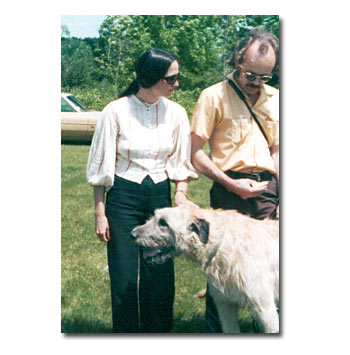 Our first dog, bred by Fran and Dave Hall. Danny was stolen and then rescued in NYC before he came to us in 1977.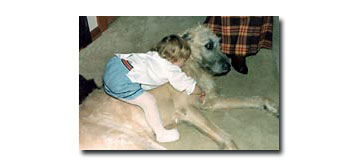 Danny helping our niece Norma learn to walk.
---
1979 - 1989, Pequest Knoll Eoin MacNiall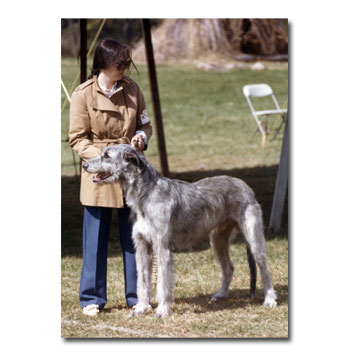 "Eoin" was our first dog that we raised from a puppy. He was bred by Dave & Fran Hall. Here he is being shown at the IWCA National.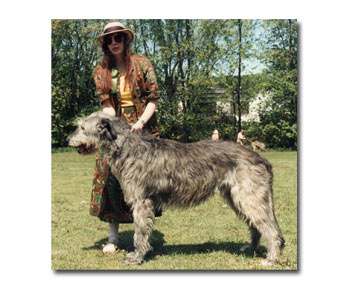 And here is Eoin being shown in 1987 in the Veteran Class at the IWCA National in South Carolina
---
1977 - 1991, Rudy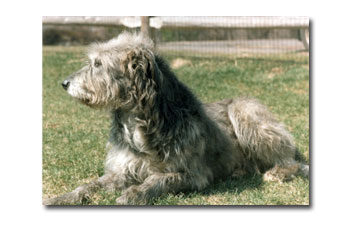 Our third wolfhound, another 'rescue was placed with us at three years old by the people who bought him at pet store'. He lived to the old age of 13 yrs & 11 months - a very old Irish wolfhound indeed. He marched in the Stroudsburg St Patrick's Day parade at 12 years old
---
1989 - 1997, Sciota's Dubhthach An Realt "Duffy"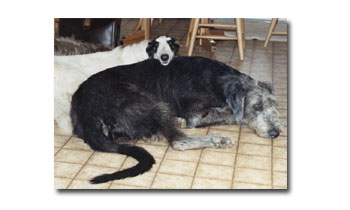 Duffy - was bred by Claire & Jack Parker. He was a hound with a really sweet temperament and a central part of the 'pack'.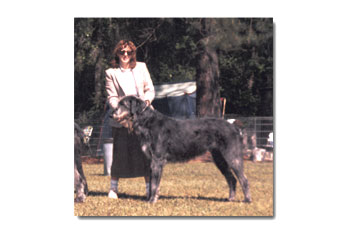 Here is Duffy taking a placement at the IWCA National in South Carolina. He seemed to catch every illness around at events so eventually we stopped taking him to shows.
---
1993 - 1997, R Noble Carraig Liath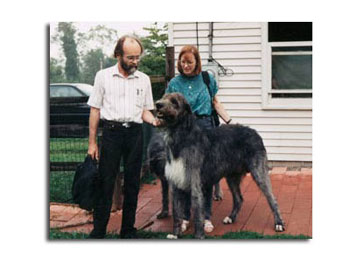 Bred by Joe and Kathy & Jim and Jean Roland. Carrick - .... our really tall guy.He was the rock star of the family. We really felt like roadies taking him places. He once emptied a tour bus of seniors at a rest stop - they all ran out with their video's & cameras much to the chagrin of the driver. He posed for more photos with more kids than any other dog we've owned. He was an honest 37 inches at the withers and weighed 195 pounds. And loved being the center of attention!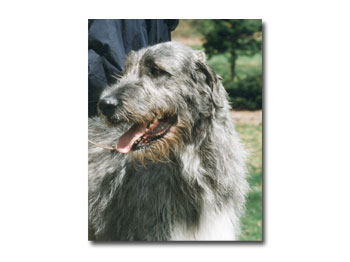 Another one gone 'too soon', we never knew what caused the illness that took him from us.
---
1997 - 2000, Karn's Farrell of Eagle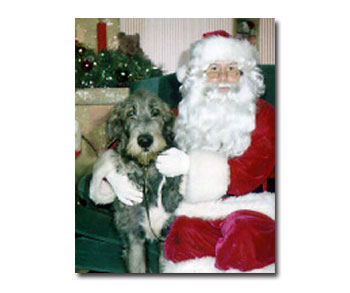 Farrell - from Jacki Karpinski, unfortunately had health issues from a young age. We lost him to bloat at 3 years old. He was a favorite of everyone, being a real sweetheart. Below he is pictured doing Public Education at the Celtic Classic in Bethlehem, PA.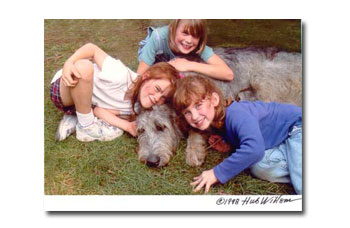 photo by Hub Wilson
---
1995 - 2004, Ch Karn's Emann of Eagle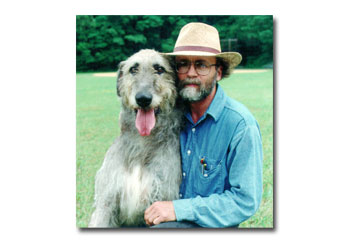 He came to us as a 2 yr old from Jackie Karpinski & Sam Ewing. We lost him a few months short of his 10th birthday. Emann, often known as "Emann the Demon" to his friends gained that reputation as a youngster. He was a well behaved gentleman by the time he came to us. A constant companion, he leaves a huge hole in our pack and lives.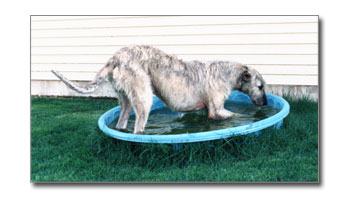 Shortly after Emann arrived - attempting to fit in the dog's kiddie pool.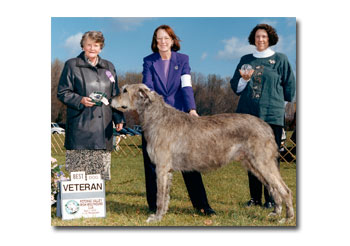 Emann won Veteran Dog class at the Potomac Valley Irish Wolfhound Club Specialty.
---
1996 - 2007, Ch Taliesin's La'dir of Eagle "Grennie"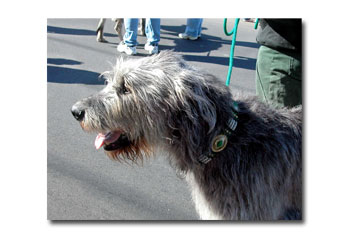 Grennie, was bred by Donna & David Smith. He was already a finished champion when we got him from the Smiths. He was 4 years old when he came to live with us. He took agility classes for several years although he never competed, he enjoyed the process until he had to stop jumping due to his age. We lost him shortly after his 10th birthday in Feb 2007.

Grennie being shown by co-owner, breeder Donna Smith before he came to us
---
2005 - 2013, Taliesin's Liam of Wideview, JC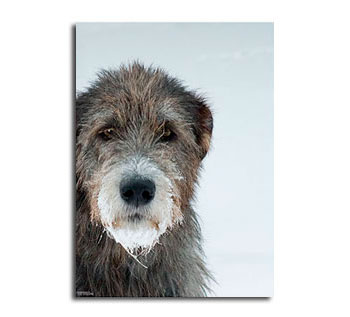 "Smudge". Bred by Donna & David Smith (Taliesin IWs) and co-owned with them. Smudge was one of 10 orphaned puppies since their dam, Legend, was lost in surgery. He had knee surgery due to a torn acl and could not be shown or go lure coursing, but he still enjoyed going on walks, doing public education events and meeting people until his death.
Smudge was also credited as the cartoonist whose cartoons were included in many issues of the Wolfhound Quarterly (an online magazine).
---
2006-2016 "Jack" DC Taliesin's Wizard of Wideview, Fch, LCX, MC, SGRC, CGC, JOR, VC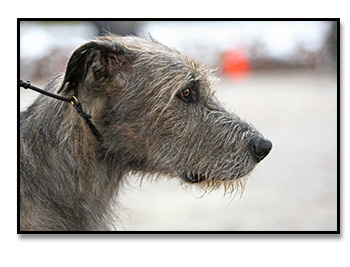 "Jack" Bred by Donna & David Smith and co-owned with Donna. Jack was our most winning wolfhound we have ever owned. He was an excellent lure courser, straight racer, as well as conformation champion. He competed in performance events up to eight and half years old. We hoped he would go on forever, but we lost him a few months before his eleventh birthday. He is sorely missed.